Thank you everyone for joining our "Showcase Your Love Through Art!" (3/6)
We had a blast reading about a talented old harpist encountering a lucky leprechaun! To go along with the story, we drew a leprechaun showing off his pot of gold. When you are done, please post it in the comments below.
We'll print it out and send it out for you or you can mail your card to the address below:
Arbol Residences of Santa Rosa Senior Living
ATTN: Send Our Seniors Mail
300 Fountaingrove Pkwy
Santa Rosa CA 95403
Since the beginning, we mail out hundreds of cards to hospitals, nursing homes, senior apartments, hospices, and cancer patients, police departments, fire departments, homeless shelters, foster kids, and ill kids. Thank you for all your support! We couldn't have done it with you.
We hope you have been enjoying our Saturday programs! We love seeing your faces every week! Register Here: https://forms.gle/c1ihEevWAkkcQNpf9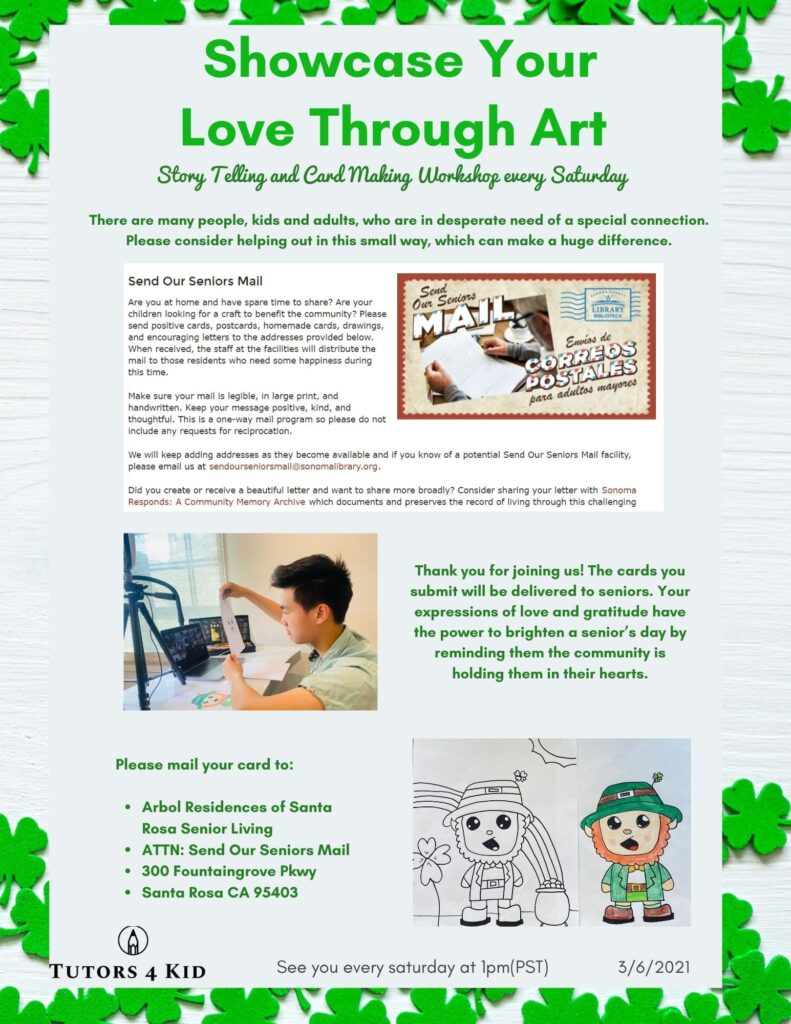 Thank you everyone for joining our "Showcase Your Love Through Art!" (2/27)
We had a blast reading about baby polar bear and his wild adventure. To go with the adorable little bear from the book, we drew a polar bear! Big Thanks to Ms. Nora for substituting for today's class! Ryan will be back next week. When you are done, please post it in the comments below. We'll print it out and send it out for you or you can mail your card to the address below:
Gary & Mary West Senior Wellness Center
Attn: Christina Selder
1525 Fourth Ave. San Diego, CA 92101